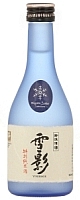 That's right, the Authority is now carrying 8 labels of Sake. Admittedly, we have a lot to learn about this wonderful potent potable so we did a little research on the few that we are carrying. Go ahead and let me know if I missed something or if I need to make a correction. So next time you're taking out Sumo Sushi, you'll know where to get your Sake!
Takara
has been a leading producer of Sake in Japan for more than 150 years. Takara Sake USA, established in Berkeley in 1982, takes advantage of the pure snow melt from the Sierra Nevada Mountains and superior rice from the fertile Sacramento Valley. To that, they applied traditional sake-making craft and modern technology to produce a high quality Sake. We stock three of their Sho Chiku Bai sakes:
Nama:
Nama Sake is a draft-style sake that is purified not by heat pasteurization but rather through micro-filterization. Since high temperatures can often change the subtle flavors of sake, this micro-filterization process better retains all of the original flavors of sake. "Nama " means fresh, indicating that it is bottled immediately after production rather than being aged for a few months like our other sakes. 15% abv.
Organic Nama:
It's totally natural, using OCIA certified rice harvested from the Sacramento Valley with absolutely no preservatives, no brewers alcohol added, no sulfites. It is brewed under the direction of Takara's master brewer combining the most traditional methods with modern technology to arrive at the Ginjo grade.
Nigori Silky Mild:
Nigori is the way sake first appeared when it was brewed for the Imperial Court in Kyoto as well as for most of its 2,000 year history. It is coarsely-filtered and the sweetest of all our types of sake. It is especially delicious with very spicy foods. The bottle should be shaken each time before pouring due to the high rice content that settles in the bottom of the bottle.
Gekkeikan
Sake is an interesting, niche item which combines images of culture and sophistication, tradition and novelty. Naturally brewed their Sake contains no added sulfites. One of the oldest family operated businesses in the world, Gekkeikan has been producing Sake for 360 years. The
Cap-Ace
comes with it's own cup built into the cap so you can enjoy it anywhere! The
Horin Daiginjyo
is ultra-slow filtered and uses the most polished rice. This is considered the top of the line Sake.
Kizakura
Stars Sake is an efferevescent sake brewed in Kyoto, Japan. It is sweet, crisp and dry, and pairs exceptionally well with spicy foods.
Yaegaki
Sake, founded as a liquor store in Himeji in 1666 and in the U.S. since 1987. Named after a famous poem that means Record of Ancient Matters their Sakes are hand crafted. The
Yaegaki Dry
is the top of their line with rice polished up to 40% away and slowly brewed at low temperatures. Full bodied and slightly acidic.
Prefecture of Niigata Yukikage
Sake is brewed in a region that is widely accepted as one of the best places to brew Sake due to deep snow and an abundance of soft, clear and pure water. Yukikage is the 'Snow Shadow' and the Sake shows apple marzipan and has a fruity aroma, soft, light body and long finish.
Whew, that's a lot to digest. The best way to discover these Sakes, of course, is to try them all!